By
On this episode of The Young and the Restless, Lily wears a colorblock dress. As she worries about working with her husband, he reassures her they can work together because love conquers all. Given that the couple has not only overcome cancer, infertility, and Cane's "death" but are also raising twins and dealing with Genevieve's antics on a daily basis, Lily finally realizes she should take the job. It will be nice to see her trade in those mom jeans and applique mom jeans vest (not literally, thank goodness) for some business attire. 
Thanks to reader Neelam for ID'ing this dress! She also shared the dress runs small so keep that in mind when ordering.
BCBGMAXAZRIA sea green ribbed jersey colorblock dress
$189.00 by BCBG MAX AZRIA at Bluefly
More sizes available here: 
</p>
By
</p>
</p>
On this episode of The Young and the Restless, Abby wears a black tulle dress. The Naked Heiress is channeling Patty Hearst as she voluntarily hops in the trunk of Carmine's car, making his kidnapping gig that much easier. It seems a bit premature for Abby to be experiencing Stockholm syndrome  as she literally has to take a backseat to Chloe. It's a sad day when she settles for being his second choice victim but an even sadder day upon the realization that her pretty tulle dress is no longer available. 
She is wearing the BCBG Max Azria Cecile Dress in black pictured below that retails for $398.00. It is no longer available online but there are a couple for sale on eBay.
</p>
</p>
Here is the look for less.
BCBGeneration black mesh burnout leaf 'Retro Remix' dress
$104.00 by BCBG MAX AZRIA at Bluefly
</p> </p>
By
On this episode of The Young and the Restless, Victoria wears a colorblock dress. Her choice of wardrobe is pretty fitting considering she would most likely want to block all recent events from her memory. Poor Victoria. If only it were that simple and a stylish dress could be the building blocks to a good life.
Iva Color-Blocked Belted Dress
$238.00 at BCBG.com
Get the look for less with this option.
$19.80 at Forever 21
By
On this episode of The Young and the Restless, Lily wears a striped strapless dress with a belt. As she confronts Cane about trust, the ones coveting her dress have to wonder whether these stripes will be flattering to all. Will Lily ever be able to trust Cane again? Can anyone rock this dress as well as Lily can? These are questions left for us to ponder as the storyline unfolds and this dress flies off the shelves.
Nicola Striped-Panel Strapless Dress with Belt
$128.00 at BCBG
Here's the same dress in Size XS on sale for $82.80.
By
On this episode of The Young and the Restless, Patty Williams and Sarah Smythe are trying to figure out how to continue successfully posing as Dr. Emily Peterson and Lauren Baldwin. Both women are wearing stylish jackets as they discuss their plans. Patty Williams is wearing a denim boyfriend blazer.
To get Patty Williams' look, turn to designer Nanette Lepore's "Petal" Linen Boyfriend Blazer for $398.00.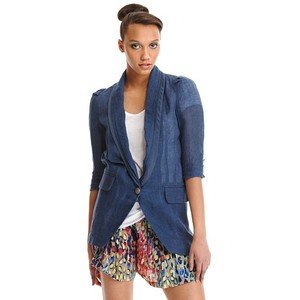 http://www1.bloomingdales.com/catalog/product/index.ognc?ID=468987&CategoryID=12970&cm_mmc=Froogle-_-Womens-_-COATS_JACKETS-_-Nanette_Lepore_Petal_Linen_Boyfriend_Blazer&utm_source=GoogleProduct&utm_medium=organic
Sarah Smythe is wearing a gray jacket with a draped back.
Sarah Smythe's jacket resembles BCBGMAXAZRIA Drape Back Jacket that can be purchased for $158.00.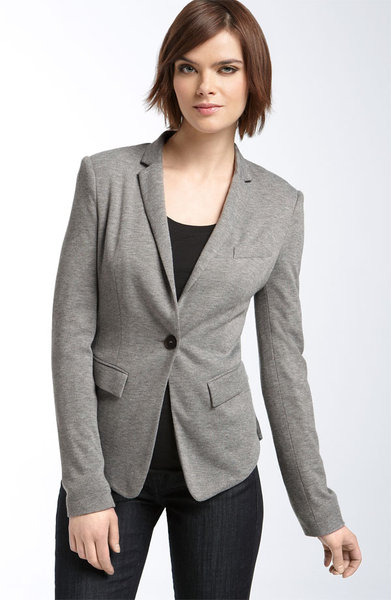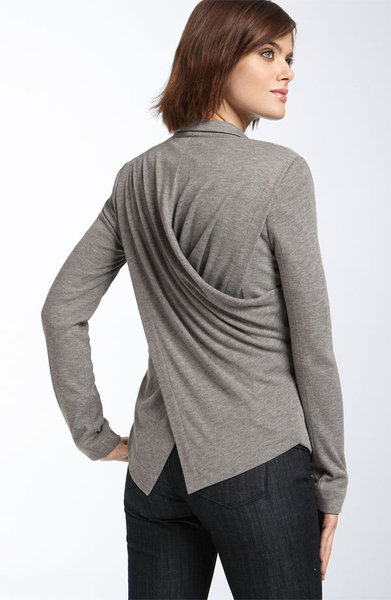 http://shop.nordstrom.com/S/3084826?cm_cat=datafeed&cm_pla=jacket%2fsportcoat:women:jacket&cm_ite=bcbgmaxazria_drape_back_jacket:291631&cm_ven=Linkshare&siteId=J84DHJLQkR4-BSQgnwOp58L07JGMjdecO
Filed in:
sarah smythe
,
patty williams
Tagged with:
jean-jacket
,
emily-peterson
,
lauren-baldwin
,
the-young-and-the-restless
,
patty-williams
,
sarah-smythe
,
the young and the restless
,
Drape
,
nanette-lepore
,
linen
,
bcbg-max-azria
,
jacket
,
blazer
,
Bloomies
,
BCBG
,
back
,
Bloomingdales
,
Nordstrom