By
On this episode of The Young and the Restless, Sharon once again teams up with Phyllis to clear Nick's name and prove Adam framed his brother. Sharon looks stylish in a beige blazer with gray detailing on the collar.
To get her look, turn to the Muu Baa Studded Leather Jacket available on Asos. It is currently on sale from $507.27 to $253.64.
http://www.asos.com/countryid/2/Muu-Baa/Muubaa-Studded-Leather-Jacket/Prod/pgeproduct.aspx?iid=1120232&MID=35719&affid=2135&siteID=J84DHJLQkR4-4xQw850QZW3fytnwTDz4qQ
By
On this episode of The Young and the Restless, Chloe, Amber, and Daniel find out that Kevin has found Jana. Chloe, the fashionista that she is, looks stylish in a black leather jacket and a white top with black polka dots.
Chloe's top resembles the Marni Polka Dot Silk-Satin Chemise that is sold on Net-A-Porter for $485.00.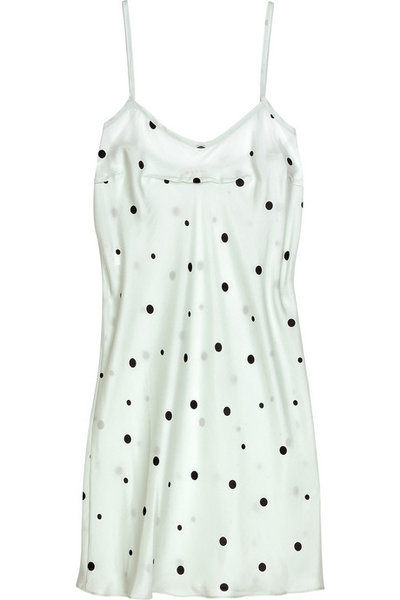 http://www.net-a-porter.com/am/product/65585?cm_mmc=LinkshareUS-_-ProductFeed-_-Marni-_-Lingerie&siteID=YulDuSW1rYo-TKDZT7m_uhxYtjFqVnxrXw#
To get a jacket similar to Chloe's, visit Ebay where a similar one is selling for $249.00.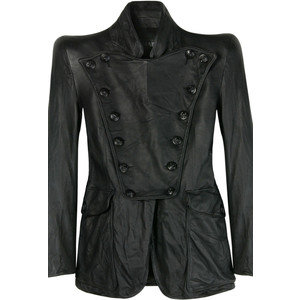 http://cgi.ebay.com/Runway-Military-2-way-Leather-Jacket-w-Balmain-gift-/300398317560?cmd=ViewItem&pt=US_CSA_WC_Blazers_Tailored_Jackets&var=&hash=item8bb2d89d33#ht_999wt_776
Filed in:
chloe mitchell
Tagged with:
jana-fischer
,
kevin-fischer
,
chloe-mitchell
,
daniel-romalotti
,
amber-moore-romalotti
,
the-young-and-the-restless
,
Polka-Dots
,
leather-jacket
,
Marni
,
eBay
,
Net-a-Porter
By
On this episode of The Young and the Restless, Amber and Little D (who now goes by Eric) walk in on Daniel and Daisy in a compromising position. Although surprised and flustered, Amber looks fabulous and is wearing a stylish motorcycle leather jacket.
She is wearing a jacket similar to the Lauren by Ralph Lauren Lawson Motorcycle Jacket. Although there are some notable differences such as the color and the fabric, both jackets have the same style and cut. What is more, the white Ralph Lauren jacket is perfect for the summer and it sells for $139.00 at Bloomingdales.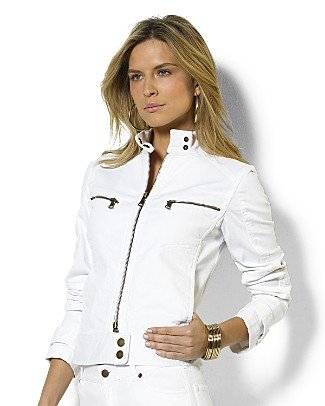 http://www1.bloomingdales.com/catalog/product/index.ognc?ID=478927&CategoryID=18136