By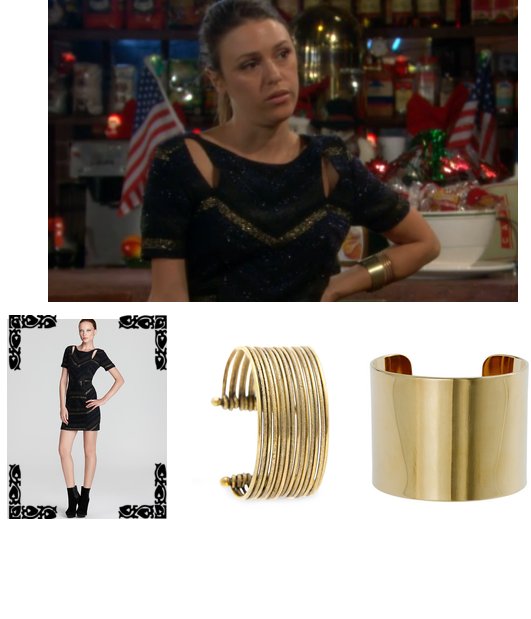 Thank you Sarah on The Young and the Stylish Facebook page for ID'ing this dress.
By
On this episode of The Young and the Restless, Lily wears a white top with blue pants. Looks like she isn't afraid to roll up her nonexistent sleeves and take it out back with Genevieve. Lily commands attention from her mother-in-law (who is behaving like a dingbat) in this adorable getup which would even make a wombat swoon. Hopefully the Ashby family doesn't move to the land down under because as cute as this outfit is, it isn't exactly cut out for the outback.
AG Adriano Goldschmied Sleeveless Marine Top
$128.00$90.00 by AG Adriano Goldschmied at Revolve Clothing
$228.00 by Rebecca Minkoff at shopbop.com
Get the look for less with this outfit.
Forever 21 Longline Sleeveless Button Up
$11.80 at Forever 21
Unisex Stretch Twill Slim Slack Lite
$75.00 at American Apparel
By
On this episode of The Young and the Restless, Ashley wears a pink and black blazer. Unfortunately by the looks of it, she will likely be blazing through another marriage. Hopefully, Ashley's relationship with Tucker will not end in a blaze of publicity although if a messy divorce does ensue, the duo will surely fight with all guns blazing. Whether Mrs. McCall blazes a trail for separation is yet unseen but one thing is evident: her jacket is certainly blazing with color and style.
$348.00 by Rebecca Minkoff at Saks Fifth Avenue
Get the look for less with this jacket.
$148.00$99.00 at Victoria's Secret
By
On this episode of The Young and the Restless, Chloe wears a colorblock dress. While the Fischer clan will be the new kids on the block when they move into their abode, one can only hope Carmine doesn't purchase new digs as well. After all, he is determined to be a stumbling block for Chloe and Kevin, threatening their long-awaited bliss. And unfortunately for Chloe, her attempts to block all thoughts of Angelina from her mind have thus far proven futile. It's a shame she had to show her true colors and will Jersey's finest into staying in Genoa City.
She appears to be wearing the Rebecca Minkoff 'Claudia' dress pictured below.
It no longer seems  to be available in black but is listed below in other colors.
<iframe src="http://widget.shopstyle.com/widget?pid=uid8009-1488003-67&look=5030103&size=Large&width=2&height=1&layouttype=0&border=0&footer=0" scrolling="no" frameborder="0" height="309" width="378"></iframe>
Lastly, here is the look for less.
$59.00 at Dillard's
By
On this episode of The Young and the Restless, Lily and her family pick out the twins' first Christmas tree. She is wearing a top with lace shoulder cutouts and a red scarf.
Patterson J. Kincaid Kendra Lace Sweater
$148.00 by Patterson J. Kincaid at National Jean Co.
$78.00 at The Limited
She is also wearing a red plaid jacket with a fur collar.
*Update 1/14/11:Found the jacket Lily appears to be wearing.
She is wearing the Wanigan Coat from Anthropologie.
The coat retailed for $188.00 but is unfortunately, no longer available online. Perhaps it is still in stores or if not, ebay is a good alternative.
http://cgi.ebay.com/anthropologie-wanigan-coat-4-6-10-12-14-nwt-elevenses-/350424032742?pt=US_CSA_WC_Outerwear&var=&hash=item905b7051bd#ht_500wt_757
http://cgi.ebay.com/NWT-Anthropologie-Wanigan-Coat-size-0-/290516198763?pt=US_CSA_WC_Blazers_Tailored_Jackets&hash=item43a41d656b#ht_1400wt_742
http://cgi.ebay.com/Elevenses-Anthropologie-Wanigan-Coat-Jacket-0-SOLD-OUT-/160524949346?pt=US_CSA_WC_Outerwear&var=&hash=item6b1b10609d#ht_1021wt_975
http://cgi.ebay.com/NEW-Anthropologie-Wanigan-Coat-Elevenses-UK-18-/220722247000?pt=Women_s_Clothing&hash=item3364123558#ht_500wt_990
Get Lily's look with these jackets.
Rebecca Minkoff Faux Fur Collar Peacoat
$595.00 by Rebecca Minkoff at Saks Fifth Avenue
Juicy Couture Alice Plaid Faux-Fur Trim Coat
$448.00 by Juicy Couture at Neiman Marcus
William Rast red wool blend plaid leather sleeve jacket
$239.00$203.15 by William Rast at Bluefly
$99.50$79.50 at Delia's
Filed in:
recycled clothes
,
lily winters ashby
Tagged with:
red scarf
,
lace sweater
,
patterson j. kincaid
,
plaid coat
,
the young and the restless
,
The Limited
,
National Jean Co.
,
delia's
,
Juicy Couture
,
William Rast
,
Rebecca Minkoff
,
Neiman Marcus
,
bluefly
,
Saks Fifth Avenue
By
On this episode of The Young and the Restless, Victoria and Billy talk about their new tattoos. She is wearing a cute ruffle shrug bolero similar to the ones below.
Giambattista Valli Chiffon-Sleeve Knit Bolero
$1,295.00$777.00 by Giambattista Valli at Bergdorf Goodman
$195.00 by Rebecca Minkoff at shopbop.com
Geren Ford cloud cotton-silk burnout ruffle top
$218.00$146.99 by Geren Ford at Bluefly
$80.00 at Topshop
$24.80$11.99 at Forever 21
There have been many many requests for this particular outfit. Unfortunately, I was unable to find the exact cropped jacket she was wearing but I tried to give several close options at numerous prices. If anyone has any information on the actual designer or brand, please use the comments section to share with others.
Update 11/2: I know this is going to make many readers very happy! I found the bolero Victoria appears to be wearing and it is on sale. Enjoy!
$190.00$76.00 by Foley + Corinna at FOLEY + CORINNA
Filed in:
victoria newman abbott
Tagged with:
the young and the restless
,
Foley + Corinna
,
jacket
,
forever 21
,
Geren Ford
,
Rebecca Minkoff
,
Bergdorf Goodman
,
Shopbop
,
bluefly
,
Giambattista Valli
,
Topshop