By

Karen Millen "Mamma Mia" Dress- No Longer Available
(Similar here:Silk Dupioni V-Neck Dress)
Did you like Christine's wedding dress when she married Paul?
By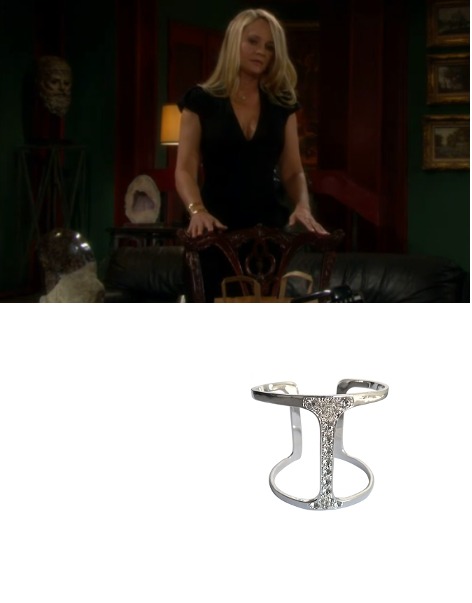 By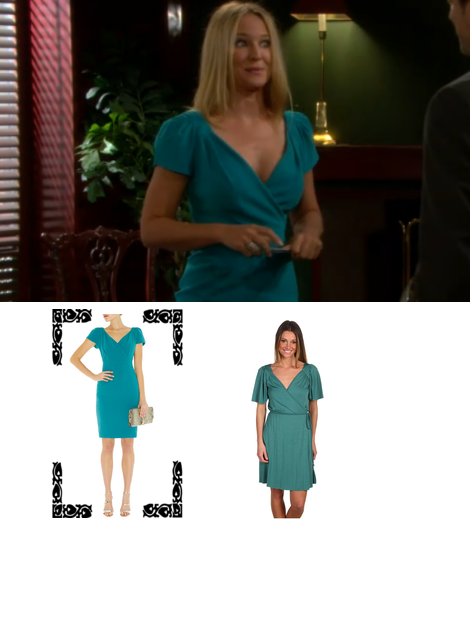 By
On this episode of The Young and the Restless, Christine wears a lace t-shirt. As she cozies up to her best friend's ex-boyfriend right after breaking up the couple, one can't help but cringe. Sure, she plays the holier-than-thou card with Phyllis all day every day but in the end, Christine is still the girl who kissed her best friend's boyfriend and ended that relationship. Too bad Cricket doesn't follow fellow Jiminy Cricket's advice because in this case, her conscience is hardly her guide. Good to see at least she's working on her fashion sense.

Karen Millen Colored Lace T-Shirt
$170.00 at Karen Millen
Take 25% off select Coats at Karen Millen! For a Limited Time Only.
By
On this episode of The Young and the Restless, Sharon wears a yellow dress. The Newman board is planning on questioning her sanity and it doesn't help her case that she spends her spare time chatting with Victor's portrait. Then again, if Sharon is labeled as unsound of mind, then all of the Abbotts should be committed as well given they all converse with John's ghost every time they are in crisis mode. There's nothing like taking a little friendly advice from an apparition to label one as "going berserk." Now the jury's still out on whether Sharon has reached Angelina Jolie's level of psychosis in Girl, Interrupted but one thing most can agree on is that they are crazy about her dress.
Karen Millen Sporty Colorful Dress
$350.00 at Karen Millen
This Weekend Only: Take an Extra 20% off select Styles at Karen Millen! Offer Ends 9.3.
By
On this episode of The Young and the Restless, Sharon wears a purple ruch dress. After the shocking statement she made in the neon pink dress at Nick and Phyllis' almost-wedding, this time around she decides to err on the side of conservative. Interestingly, Sharon's asymmetric purple dress is as one-sided as her current relationship with Victor. While Victoria, Nikki, and Chelsea may all be thorns in her side, on the bright side, she looks pretty fantastic. On the down side, now that she is back to her fair hair color, let the blond jokes begin anew.
Signature Stretch Satin Pencil Dress
£175.00£140.00 at Karen Millen
*See the dress on the US website here. 
Get the look for less with this dress.
Eliza J Beaded One Shoulder Satin Dress
By
On this episode of The Young and the Restless, Avery wears a black dress with zippers. She makes a bona fide effort to do the right thing and decline Victor's job offer for Michael's sake. In this case, however, things work themselves out when her friend doesn't judge her but encourages her to accept. Speaking of judging, Avery's dress is proof beyond a reasonable doubt that a good outfit really lays down the law when it comes to the power of an attorney.
She is wearing a Karen Millen black bodycon dress that retails for $299.00. It is pictured below.
For information on Avery's glasses, see this post.
By
On this episode of The Young and the Restless, Sharon is wearing a floral dress. Whoever said the life of a Newman would be a bed of roses has not yet walked a mile in her expensive designer shoes. Yes, considering Sharon's business trip to Japan went according to plan, she came out smelling like a rose. However, lately she's had enough thorns in her side to prove her life is far from perfect. Her tumultuous relationship with Adam for one proves  every rose has its thorn. Luckily, her dress covered in roses proves her wardrobe is still quite sweet.
Floral Signature Stretch Dress
£160.00 at Karen Millen
*Please Note: To see the dress on the US Karen Millen website, click here.
By
On this episode of The Young and the Restless, Sharon wears a sheer polka dot dress. The new Mrs. Newman sure knows how to spot a good deal when she sees one! Yes, Sharon's hot dot dress is quite the catch but then again, so is "the Moustache" himself with all of his ten-spots, power, and influence. So while a leopard can't exactly change his spots, this former blonde not only transforms her hair-color but swaps Newman men like it's her day job. Too bad this dress isn't on the market because something tells me if it was up for grabs, there would be many many takers.
She is wearing the Karen Millen Polka Dot dress pictured below. It retails for about $256.00 but does not appear to be available any longer. For more styles by Karen Millen, visit the website.
Get the look with this similar dress.
Diane von Furstenberg Enny Sheer Dot Dress
$375.00 by Diane von Furstenberg at CUSP
</p>
By
On this episode of The Young and the Restless, Avery wears a beige dress. Don't let the drab color fool you because this lawyer really knows how to push people's buttons, and not just with her wardrobe! First Avery saunters into Genoa City to make Phyllis' life hell by defending her arch nemesis Sharon. Then, she sleeps with a man who just so happens to be the ex-husband of her sister and of her former client. Finally, Avery paints a pretty pathetic picture of Sharon to defend Nick in the custody battle over Faith. Red's long lost sibling really knows how to color the town crazy. Stay classy, Avery. At the very least, this dress helps hide her off-color behavior.
Karen Millen Tailored Shift Dress in Camel
$454.00 $137.00 at Karen Millen
For information on where to get Avery's glasses, see this post from October 15, 2011
By
On this episode of The Young and the Restless, Skye gets trapped in an elevator with her father-in-law Victor. She is wearing a black and grey dress that appears to be this one.
Karen Millen Feminine Textured Tailored Dress
$278.03 by Karen Millen at Asos
To get Skye's look for less, see these options.
Calvin Klein Dress, Two Tone Sheath
$128.00$96.00 by Calvin Klein at Macy's
$90.00$41.99 at Kohl's
By
On this episode of The Young and the Restless, Skye deals with the repercussions of the unflattering Restless Style cover. She appears to be wearing this black dress with an open back.
Karen Millen Boat Neck Crepe Dress
$278.03 by Karen Millen at Asos