By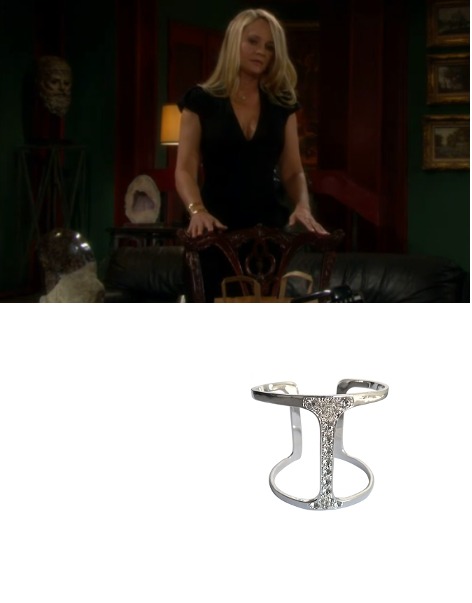 By
On this episode of
The Young and the Restless
, Sharon wears a blue shirt and moon and star necklace. Now that
the palace has announced Kate Middleton is pregnant
, everyone is no doubt over the moon. Sharon, on the other hand, is
expecting
harsh judgement and in Chelsea's eyes, is becoming a royal pain. So while the Duchess of Cambridge is with child, Adam's wife thinks her husband's ex is behaving like one. The one thing Sharon and Kate seem to have in common these days? They both look stunning in blue. That has to count for something, right?
</p>
$284.21 by Equipment at farfetch.com
As for her moon and star necklace (first ID'd here) this is a similar one:


Carrie's Moon and Star Necklace
$39.99 at Amazon.com
**Pomp Jewelry by Sharon Case and Elif Inanc also has a Crescent Moon Necklace that is similar and comes in either silver or gold for $29.95
By
On this episode of The Young and the Restless, Sharon wears a blue and white floral printed dress. Remember that scene in The Nutcracker when Clara watches about twelve little children run out from underneath a woman's enormous hoop skirt? Well with Sharon being a kleptomaniac and all, one has to wonder what she has hiding under hers. Her "misplaced" prenuptial agreement papers, perhaps? Maybe Chelsea's disappearing lip-gloss? It wouldn't even be that surprising if Victor, Jill, Murphy, Phillip, and even Daisy all came scurrying out from under there. After all, they haven't exactly been seen around town these days. And that is why you gotta love a vintage inspired frock. Pretty and so very handy.
$198.00$99.95 at Anthropologie
She is wearing the Diamond Drop Earring in Silver from POMP Jewelry. They retail for $29.95 and can be purchased here.